What are you listening to?
I am remarkably new to the world of podcasts. A coworker turned me onto one last year (This Podcast Will Kill You), and from then on, I have become obsessed. I started out with strictly paranormal/weird pods, but I've since expanded my listening pleasure to include true crime pods as well. There is some crossover with the paranormal podcasts sometimes covering true crime topics too. In fact, I'm not sure "paranormal" is actually the correct name to use – maybe "weird" would fit better. Forteana might fit as well, but a lot of people don't know that term. Most of them cover everything from aliens to cryptids to serial killers, so they have a WIDE breadth of topics and episodes. Sort of the equivalent to the psychological thriller film category?
I listen on Spotify (which probably shows you how much of a noob I am, right?), and here are some of my current favorite pods! You can click on the image for each podcast to visit their website. A few of these I support on Patreon. Patreon is a great way to support creators of all types – podcasters, artists, musicians, content creators!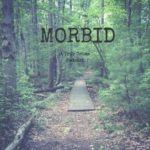 Morbid: A True Crime Podcast. This show is hosted by two women (Alaina and Ashley) who are local to me (New England). Alaina is an autopsy technician (how fitting!) and Ashley is a hairdresser. Alaina is Ashley's aunt, but they were actually raised as sisters. This one's in my Top 5! Currently 95 episodes (approximately). They pepper in some "listener tales" (and other) episodes which they don't seem to include in their episode numbering.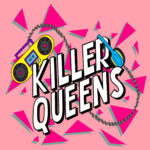 Killer Queens. Killer Queens is also hosted by two sisters – Tori and Tyrella. They actually remind me a lot of the Morbid chicks, but they are the southern belle version, hailing from (I think) Tennessee. Also in my Top 5! I think KQ and Morbid are tied as my #1 true crime podcasts. Currently 82 eposides (approximately? They only recently started numbering their episodes).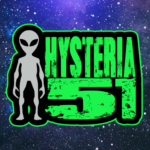 Hysteria 51. Probably my current #1 paranormal podcast, this one's hosted by John Goforth and Brent Hand, along with their annoyingly lovable and sociopathic robot, Conspiracy Bot (and his occasional sidekick-bot Kyle). They cover everything from cryptozoology to aliens to serial killers to mysterious disappearances. Currently 158 episodes.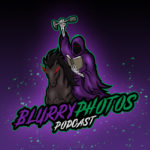 Blurry Photos. This was my first paranormal podcast, and I literally devoured every episode and fell in love with the two hosts – Dave Stecco and David Flora. Then around the 2018 mark, Stecco left, leaving Flora to host solo. The format changed a bit at that point, became more structured, and while I definitely missed the interaction between the two hosts, it's still one of my Top 5, and David Flora has gotten into his groove now, I think. He also shows up occasionally on Hysteria 51. There are a LOT Of episodes with a very wide breadth of topics! Currently 232 episodes.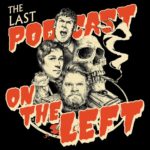 Last Podcast on the Left. Rounding out my Top 5 is Last Podcast on the Left. LPotL is hosted by Ben Kissel, Marcus Parks, and Henry Zebrowski. These guys do live shows in addition to the podcasts and recently returned from Europe and are currently doing gigs in the US. Kissel and Zebrowski are both comedians (Zabrowski is also an actor), and Parks is a podcast producer and researcher, all longtime friends. This one took some getting used to because sometimes it can be overwhelming (especially if they have a few guests on the show). Sensory overload! Very, very, VERY broad topic range! From their website: "Last Podcast on the Left barrels headlong into all things horror . . . dark subjects spanning Jeffrey Dahmer, werewolves, Jonestown, iconic hauntings, the history of war crimes, and more. Whether it's cults, killers, or cryptid encounters, Last Podcast on the Left laughs into the abyss that is the dark side of humanity." Currently 385 episodes (approximately). These guys also do a lot of "side" episodes that I don't think are included in their episode count.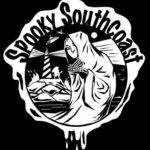 Spooky Southcoast. Honorable Mention to a very long-running podcast that is also a radio show on a station local to me here in Massachusetts is Spooky Southcoast, hosted by Tim Weisberg. This show started airing on AM radio in southeastern Massachusetts in 2006. Besides Weisberg, the SSC team also includes a co-host/psychic medium (Stephanie Burke), content director (Chris Balzano), and a science advisor (Matt Moniz). I'd heard previously of Chris Balzano, as he has authored several books on local folklore (including on one of my favorite topics, the Bridgewater Triangle). They also have a wide array of topics, focusing mostly on southeastern Massachusetts area folklore (Bridgewater Triangle, Lizzie Borden, urban legends, etc.). Currently 577 episodes.
If you're a podcast aficionado, I'd love to hear about your favorite shows as well as suggestions for a podcast-specific app I can use that would offer me more features than Spotify.